Entrian Source Search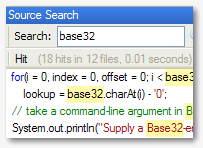 A Visual Studio add-in providing instant full-text search of your source code. Fast, powerful, flexible, unobtrusive. Learn more...
Latest version:
1.7.8 (download)
Recent highlights:
Multile tabs.
Indexing is now done in an external process.
Multi-token wildcards.
Query syntax coloring and results coloring.
(Latest release announcements)
I just wanted to say thanks for making Source Search. I work on a project that has logic in C++, lua, html/javascript, xml, and a "visual scripting language" and Source Search has been incredibly beneficial in helping me figure out how everything connects together.
– Peter G, Seattle, USA
Entrian Inline Watch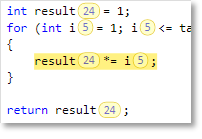 As you debug, Entrian Inline Watch displays the values of variables inline in your source code, updated live as you step through your code. Learn more...
Entrian Attach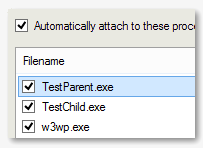 Automatically attach the Visual Studio debugger to any process as it starts, whenever and however it's started. Learn more...
Attach the debugger automatically to processes the moment they start, however they're started. Services, web servers, DllMain, unit tests, setup custom actions, anything you like. Attachment happens directly on process creation, not by polling.