Monday, June 22nd, 2009 by
Richie Hindle
I'm very pleased to announce the release of Entrian Source Search 1.3.0, which introduces support for Visual Studio 2010: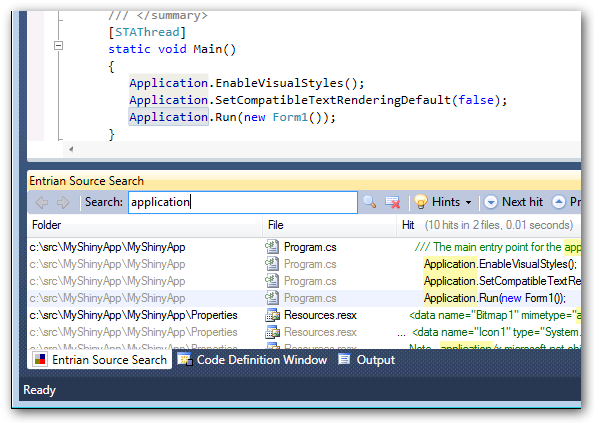 Like VS2010 itself, support for 2010 has Beta status – if you find any problems running Entrian Source Search under Visual Studio 2010 Beta 1, please let me know.
As well as support for 2010, there are several other fixes in 1.3.0:
The Uninstall prompt that asks "Would you also like to delete your indexes, settings, license, etc.?" now only appears once.  Previously it could appear multiple times, if you'd re-installed or upgraded Entrian Source Search (thanks, Dan).
License keys are now emailed with a shorter line length, because some email systems could mangle the old 78-character lines (thanks, Rob).
If there's an error pasting your license key into the "License key" form, the clipboard is no longer locked while the error is displayed (thanks, Rob).
Improved the error reporting when pasting in a mangled license key (thanks, Rob).
Fixed problems with painting the File and Folder columns (thanks, Ike and Rob).
Fixed problems with painting the backgrounds of forms (thanks, Ike).
For more information, see the product homepage, or download it here.